Prague Bachata Marathon
Dance, Eat, Sleep, Repeat
16.05. - 20.05.2024
More about upcoming marathon ...
" As you read - dance, eat, sleep, repeat - Prague Bachata Marathon concept is just like that! "
Prague Bachata Marathon is an international gender balanced concept for intermediate and advanced dancers.
Our goal is to provide the best experience to make the dancers feel at home.
The concept of our marathons is a connection of the highest quality:
top DJs, top sound system, all inclusive food & soft drinks, professional dance floor and advanced dancers.
Wondering how and why the marathon concept was created?
Well, we wanted to create not only dance relations on the dance floor, but also to make the dancers really get to know each other. We wanted to create a narrower community, a place with a friendly family atmosphere.
So join us and be part of the most successful pure social concept which we started in Salsa and Zouk scene in 2014 and which has spread all over the world!
Want to know more details? Read below!
High quality service is our priority
Stunning venues
We aim to provide you the best experience so you feel like in a dance heaven.
Grébovka
Dance with a glass of wine and the romantic view
Have you ever danced in a place with a charming atmosphere? Imagine, the smell of blooming flowers, taste of the best czech wine, bachata beats and sunset with a charming view of the city. Just like that is our venue for welcome and farewell parties! Enjoy the most romantic place to dance in Prague!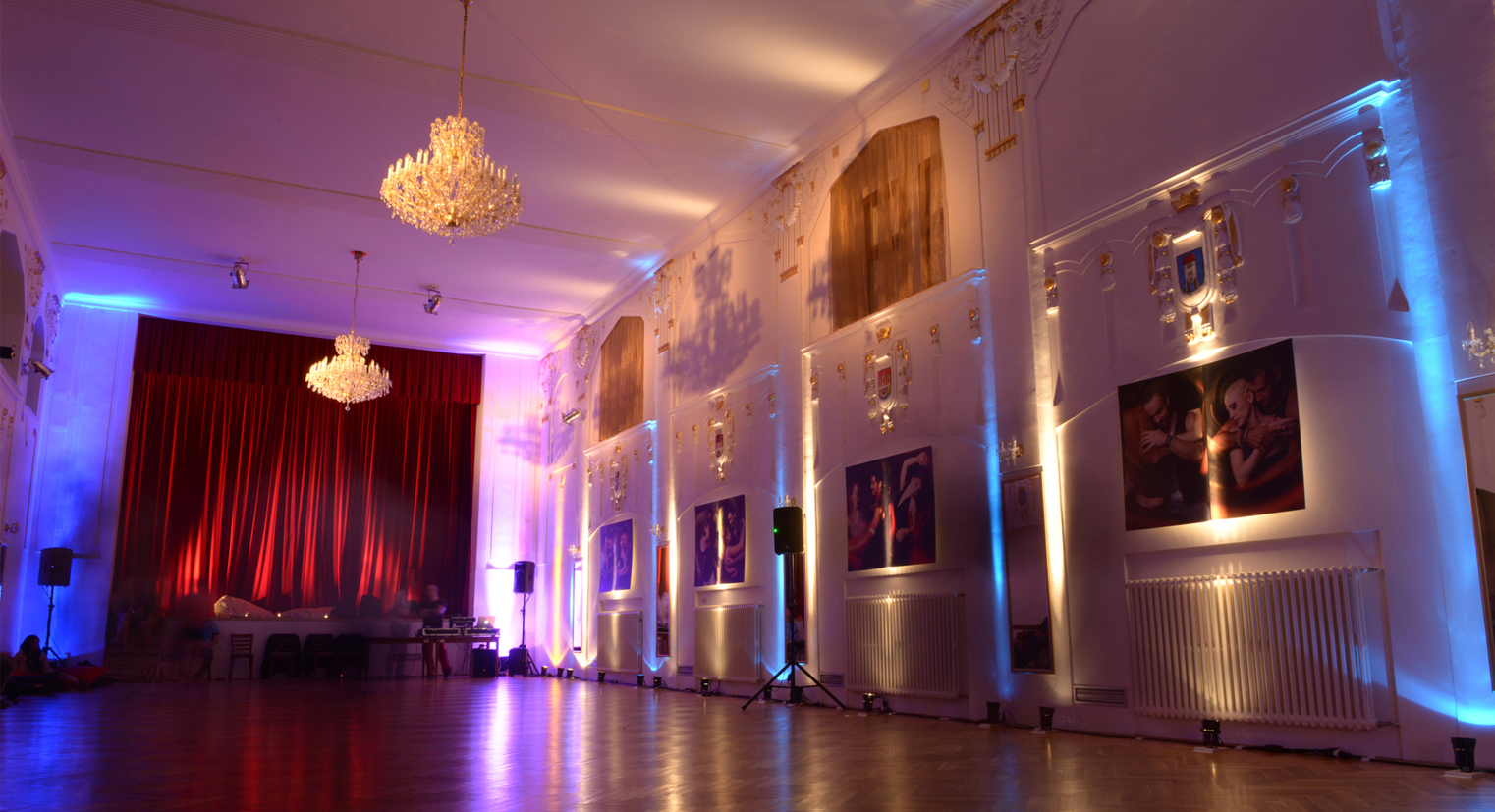 Na Marjánce
Art Nouveau Building
Our charming main marathon venue has a large professional dance floor and a unique atmosphere. It is located close to nice places in Prague, so if you want to take a break for a while, get lost in the beautiful streets and enjoy the authentic atmosphere of the city.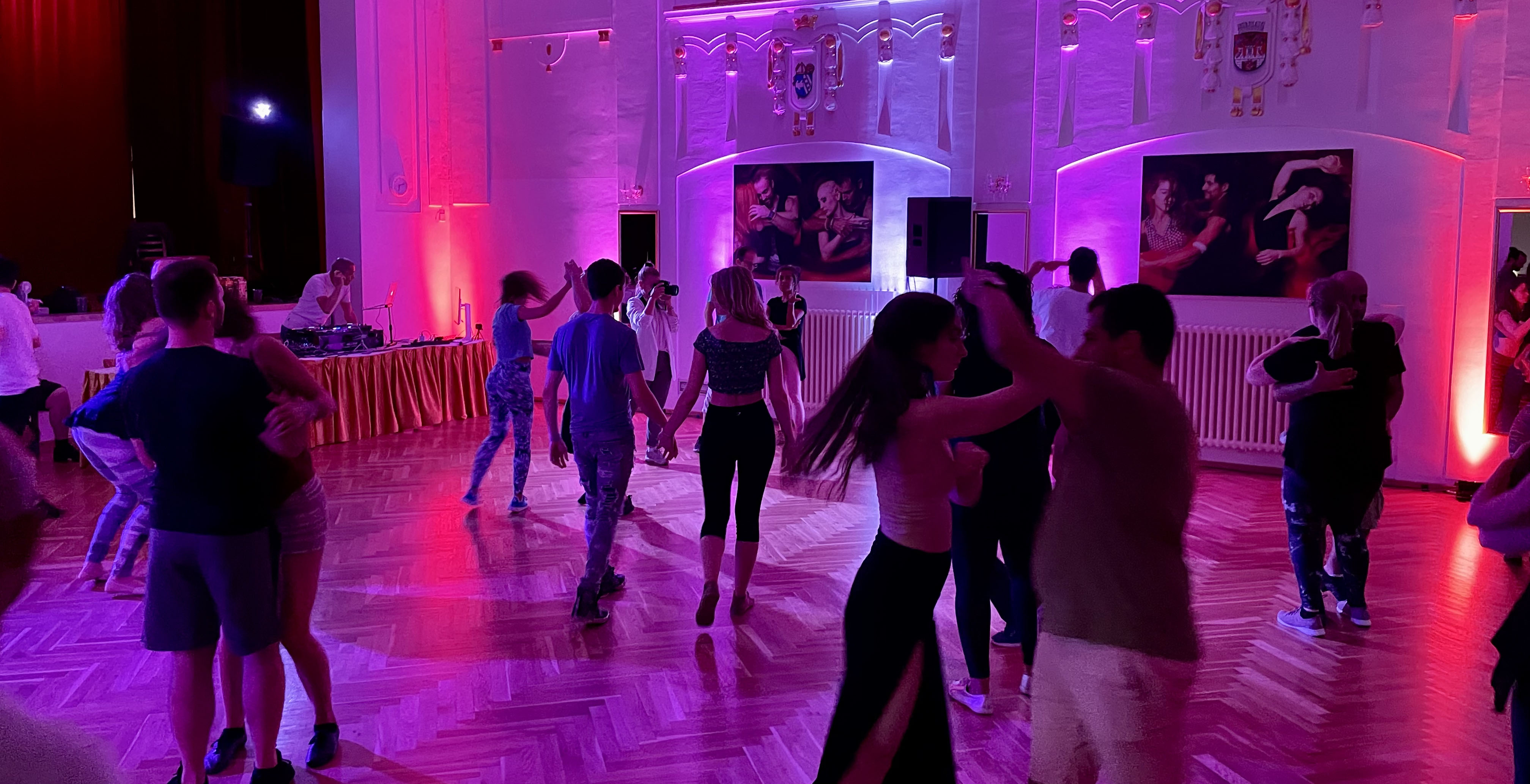 Dancefloor
Wooden professional dancefloor
We also think of you when choosing a quality dance floor. Our venue provides a professional wooden dance floor for dance competitions, so you will enjoy dancing even more!

Sound system
We want the music to be the best experience for you
We are ready for you with the best sound technology that is used for concert halls! Before every marathon we calibrate our sound system with a pink noise so we provide the best setting for our professional DJs.
Moreover, our great DJs talk to you through music. So come, grove to the beats and dance the night away!
Food and soft drinks
all inclusive, all you can eat
Vegetarian, Vegan, Lactose, Gluten free or any other diet? We take care of you!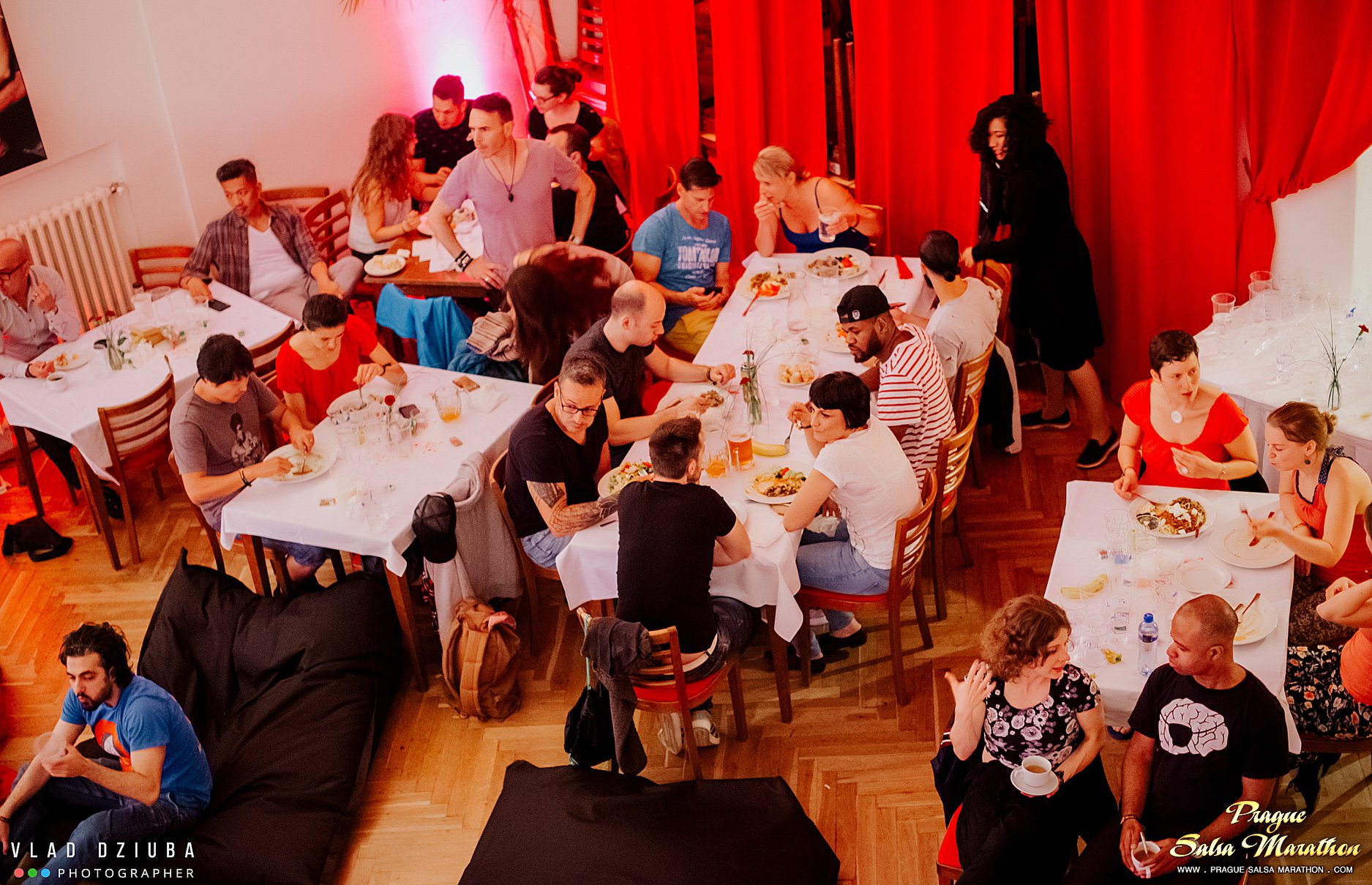 No one stays hungry!
Food is right at the dancefloor
In our Prague Bachata Marathon no one stays hungry! All you can eat food and soft drinks are included in the ticket price! Because we know how important it is to drink during dancing, fresh water with mint, lemon and fruit, lot of coffee and tea is always there for you!
It's all inclusive, all you can eat
2* brunch, 2* dinner, 4* snacks
unlimited water with fruit & herbs, coffee, tea
Saturday gala chocolate & fruit fountain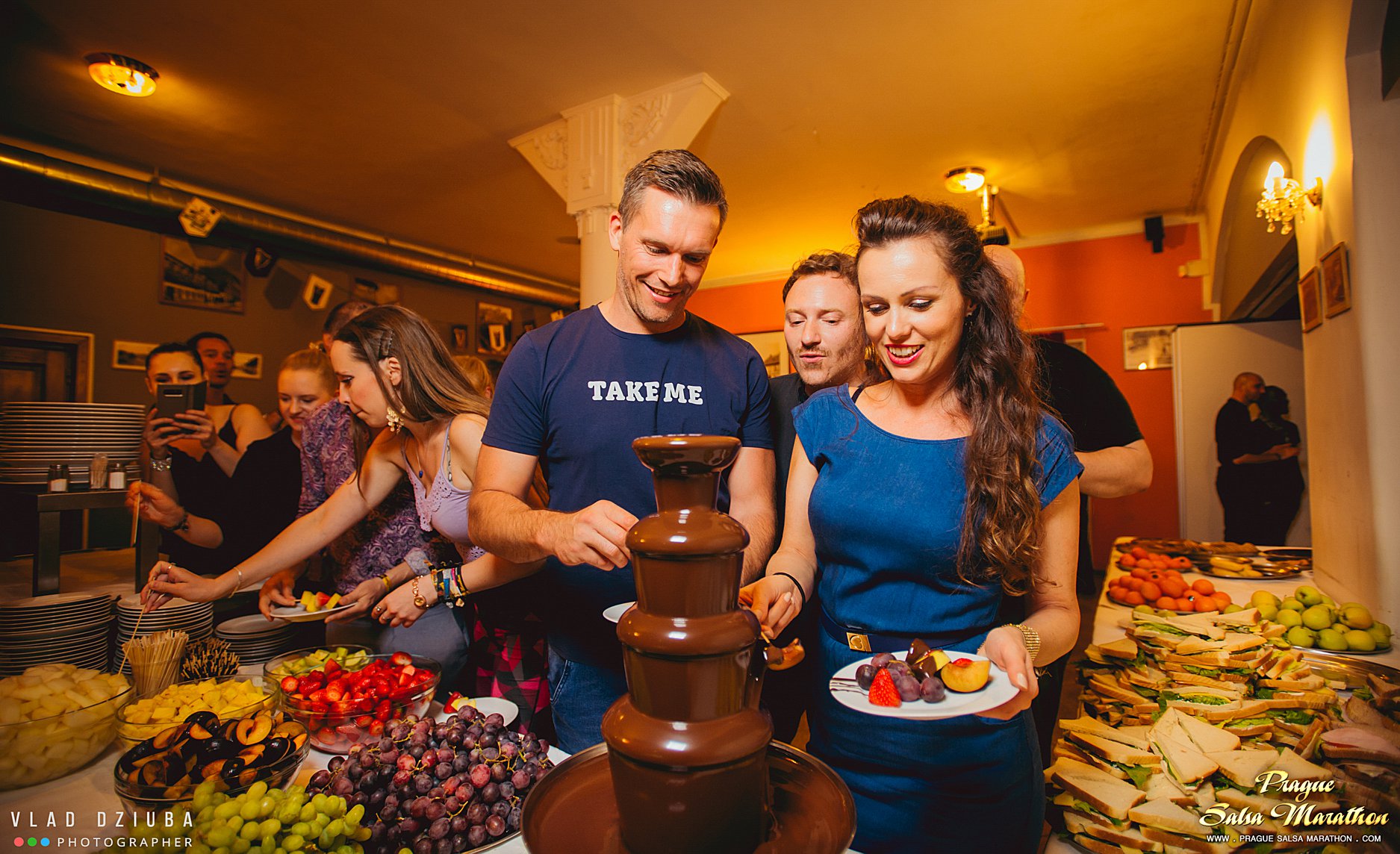 Czech cuisine specialities, lot of veggies & fruits
Each course consists of a wide range of hot and cold dishes. We also take care of your intolerances and allergies, so nobody stays hungry!
Chocolate and cakes
The highlight for your taste buds is the chocolate fountain with lot of fruit to make you dance all night and day long.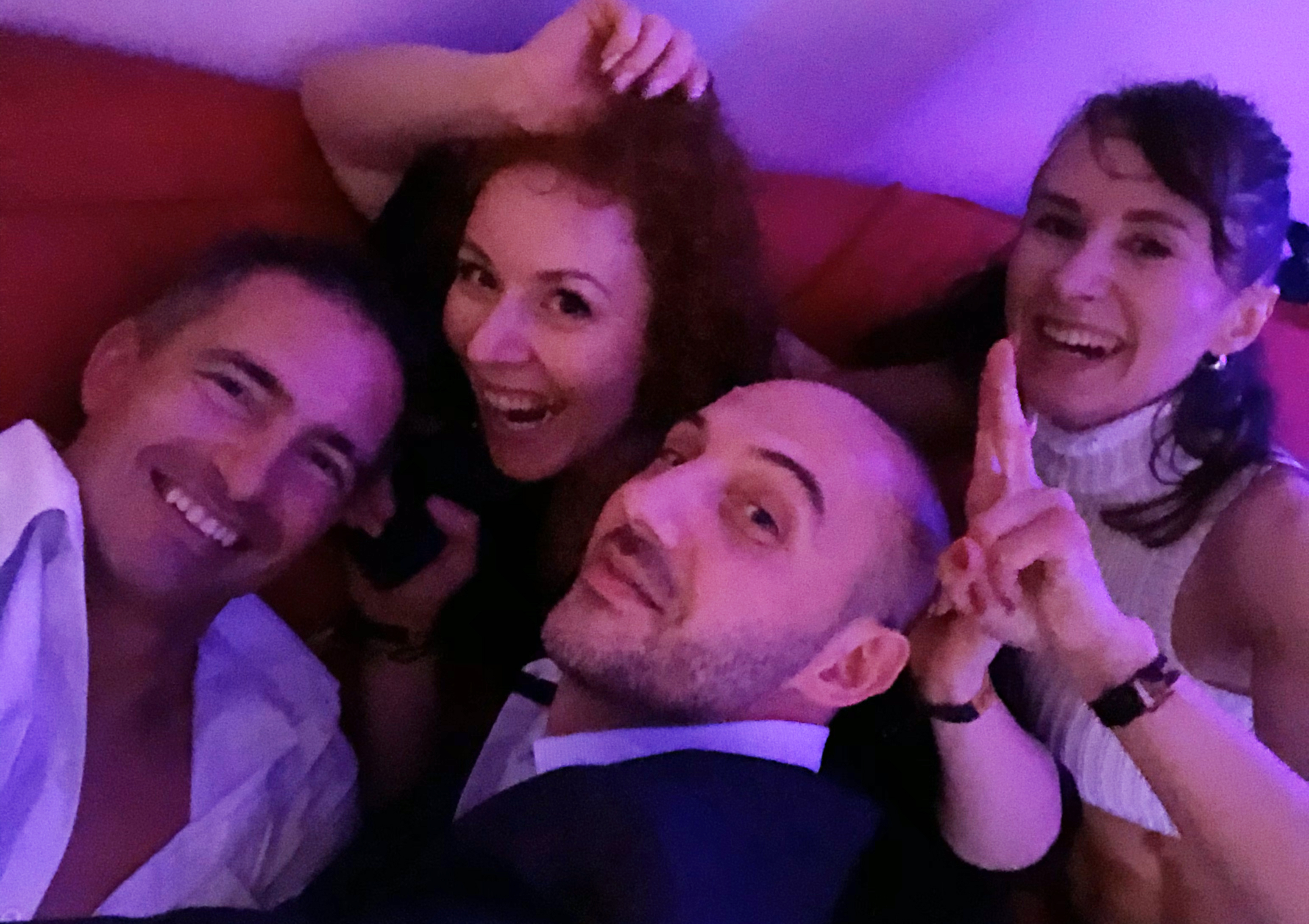 Chillout Zone
Relax right on the dance floor
Are you a party animal but time to time you need to recharge the batteries? Problem solved!
Chillout zone with beanbags is always there for you. There you can chat with friends and relax or take a nap so you can get back soon to the dance floor again!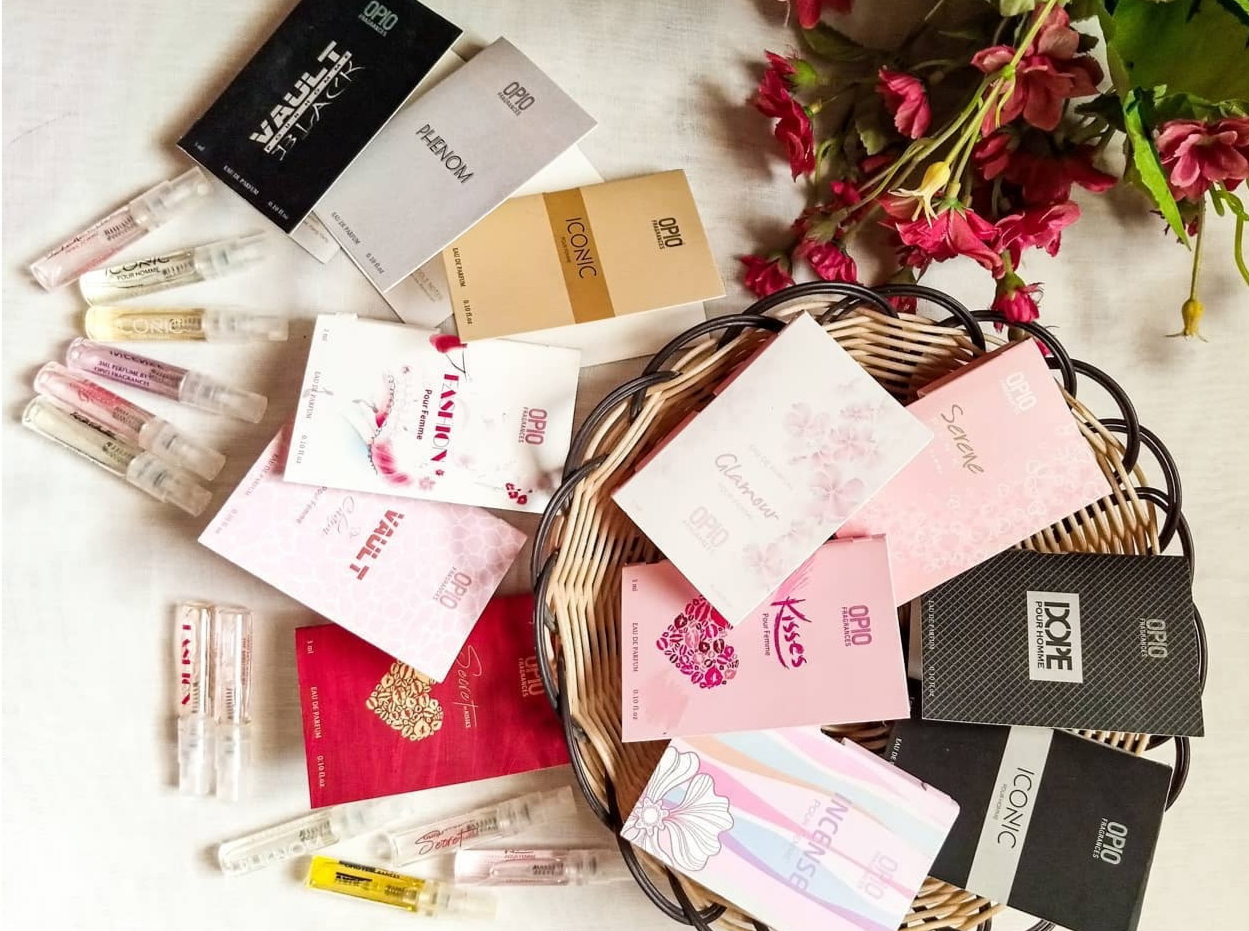 Quality service
Feel fresh during dancing
We think of every detail to make you feel comfortable with us! That's why samples of famous french perfumes, hair sprays, antiperspirants and hygiene items for everyone are always waiting for you in every bathroom! You can have a quick refresh to be ready on the dance floor for your next dance again!
Beautiful City of Prague
Prague, City of a Hundred Spires
Take a break for a while and get lost in the beautiful streets of our city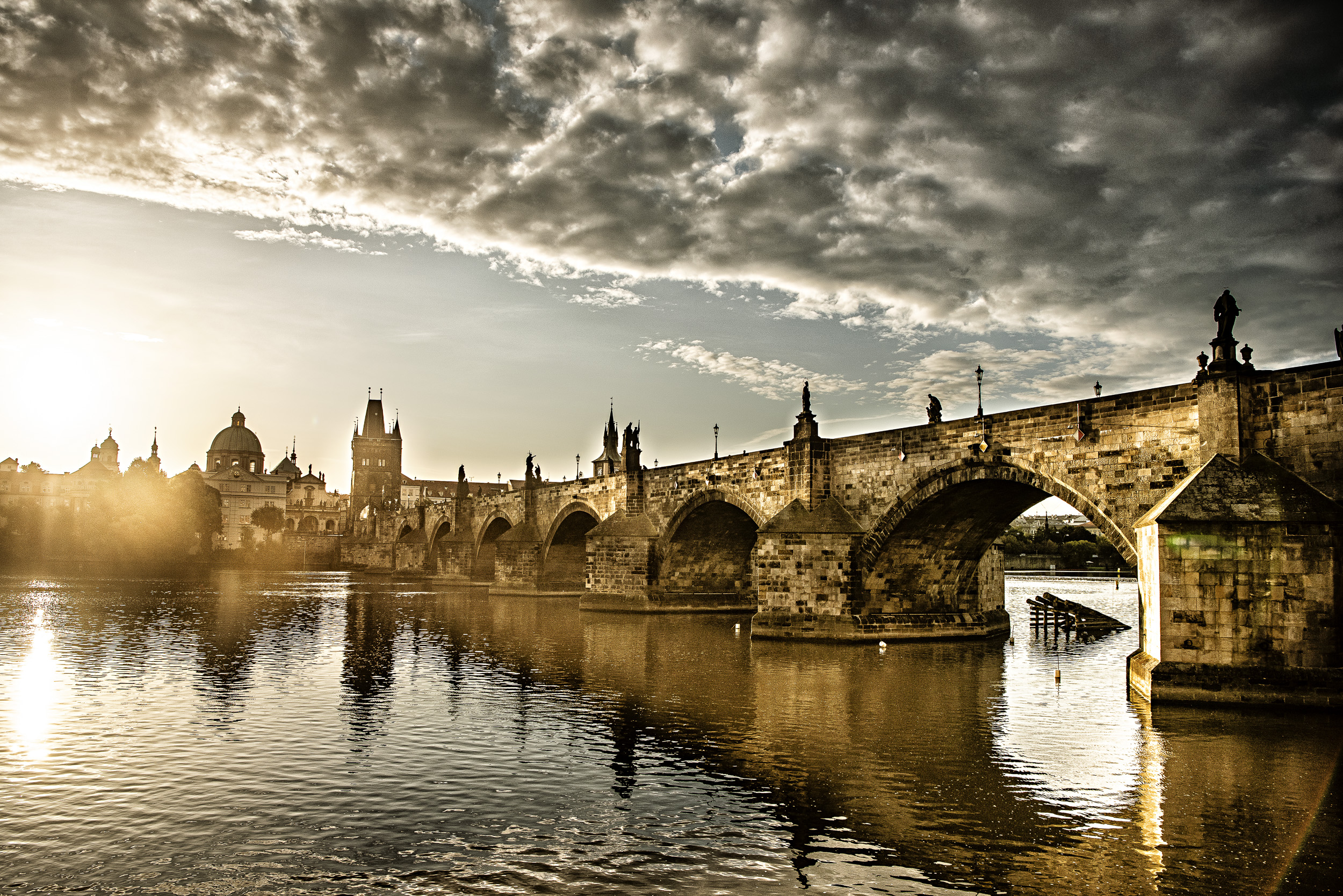 The mother of all towns
UNESCO monument and one of the most beautiful cities
The Old Town Hall with the famous Prague Astronomical Clock, the winding lanes of the Jewish Quarter, which you know from the novels of Franz Kafka, steeped in the legend of the Golem. Cafes enticing you to come and have a seat. The Gothic Charles Bridge and Church of St. Nicholas in the Lesser Town, the most beautiful Baroque church in Prague. The Palace Gardens set away from the bustle of the city, Petřín with a lookout tower reminiscent of a small Eiffel Tower and Prague Castle. Each of Prague's districts has its own characteristic atmosphere and unique charm. Prague is a city that is cosmopolitan through and through, and is used to welcoming foreigners.
Romance is at home in Prague
When is Prague at its most romantic?
In the spring, when Petřín Park is in bloom with thousands of cherry blossoms? In the summer, when the elegant gardens of Prague Castle allow for pleasant lazing in the shade of its fountains? In the autumn, when the colourful leaves fly along the sunlit banks of the Vltava, or in the winter, when the roofs and towers of the Old Town are covered in a white blanket of snow? Prague, city of a hundred spires, is simply a paradise on earth for the romantic spirit in each and every one of the seasons.